RingCentral Quick Start Basics
Issue/Environment/User Role
A Faculty or Staff member would like additional information on how to use RingCentral Meeting and RingCentral Phone.
Cause
The user is unfamiliar with the RingCentral solution and would like more information on navigating the solution.
Resolution
RingCentral Meeting
Launch RingCentral Meetings. Click Sign In and enter your email or RingCentral phone number/extension and password. Select Join a Meeting and enter the meeting ID to join as a participant.
If signing in you can either use your RingCentral credentials (setup in your Welcome Email), or use the "Single Sign-On" option to use your email and email password to sign in.
Start without video. Start a meeting by sharing your screen with participants.
Start with video. Start a real-time, interactive online meeting with participants.
Schedule a meeting with a specific date and time, or as a recurring meeting. Set up the options for audio, video, and calendar. Send email invitations to participants.
Join a meeting as a participant.
Share screen by entering a Meeting ID. When working with RingCentral Rooms™, share screen instantly by using proximity signal or entering a sharing key.
View upcoming meetings or access previous meeting recordings.
Additional RingCentral Settings.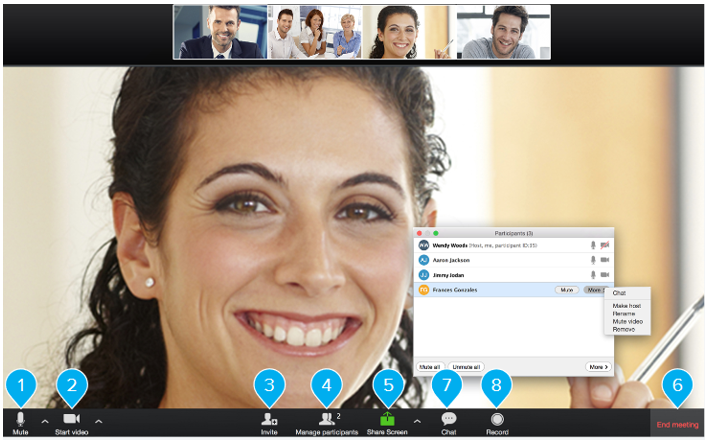 Mute, unmute, and set up audio.
Start, stop, and set up video (camera).
Invite people to join meeting via email or SMS (mobile).
View participants.
Share screen, file, or an app.
End or leave the current meeting.
Chat with an individual or address the entire group.
Record the current meeting.
Mute/unmute audio.
Start/stop video (camera).
View participants.
Share a new window, file, or whiteboard.
Pause/resume shared screen.
Annotate content with tool to highlight or mark up shared content.
Remote Control a participant's mouse and keyboard.
Chat with an individual or group.
Send a meeting invitation via email.
Start recording the meeting.
Enable/disable a participant's annotation capability.
Show/hide your video.
Switch the audio selection between dial-in or in-app audio.
Access settings to configure video and more.
Optimize for full-screen video sharing to other participants.
End the meeting.
RingCentral Phone
For more information, refer to:
https://netstorage.ringcentral.com/guides/meetings_quickstart_guide.pdf
https://netstorage.ringcentral.com/guides/desktop_quick_reference_guide.pdf